Christmas in Austria
December 25, 2017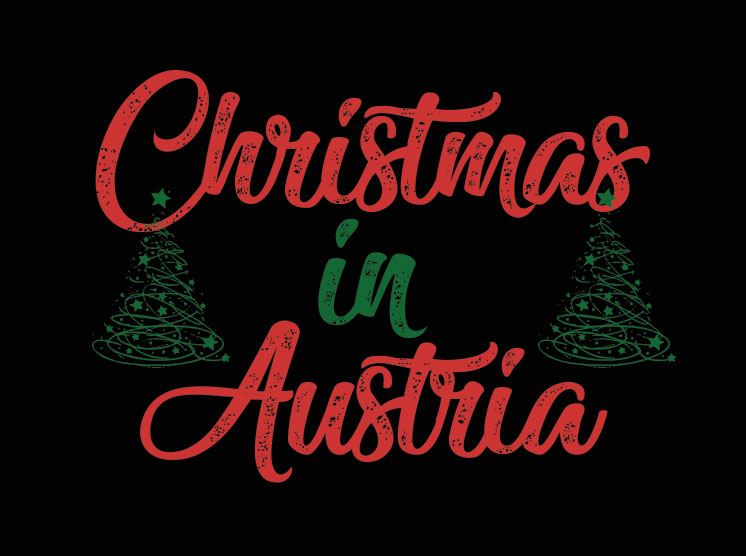 Merry Christmas and happy holidays, everyone!
I'm very fortunate that this year, we managed to get all the family stuff done by Dec 23, but usually, Christmas here centers on the eve of Dec 24, where the Christkind brings presents to us all. There is no Santa, no reindeers, and no home invasion during the night. We got this all covered by bed time.
Let me explain.
Austria is a foremost Roman Catholic country, so that's the tradition we follow here. "Tradition," really, as it's not something that's been done since the 13th century, and it's already been changing since the very first Christmas I can remember. If you look at central / eastern European traditions, they all bear a lot of resemblance, and like most "Catholic" traditions you can easily see the heavy Germanic (pagan) influence in them.
We actually do have a St. Nicholas tradition (who Santa Claus embodies), but he visits us on Dec 6 and brings (small) gifts for well-behaved children. The brats get punished by the Krampus on Dec 5–depending on which version you believe in, the children either get a lump of coal, or they get put in a sack and are beaten with reeds or birch branches. Another version, if different in meaning, of the Krampus myth is celebrated, mostly in the alpine regions, as the Perchtenlauf, where people in full costume and demon masts run through the village, harass the onlookers, and supposedly scare away ghosts. Wild Hunt anyone? When I say Germanic influence, I mean Germanic is in the Norse Gods. We pretty much still worship Odin, just by another name. Usually, you get a red boot with peanuts and oranges, and some chocolate. St. Nicholas is accompanied by Knecht Ruprecht, who was immortalized by Theodor Storm in a poem that I can still recite, somewhat, because I loved it as a child. Fun fact: In the German language version of the Simpsons, the dog's name is Knecht Ruprecht rather than Santa's Little Helper.
And then there's Christmas. Christmas Eve, to be precise, but we call it Christmas. Once it gets dark on Dec 24, the Christkind (literally: Baby Jesus), depicted as a (mostly female) angel of around 10 years of age with golden locks of hair comes and bring the presents, and the Christmas tree. But children may not observe, so it's all done behind locked doors but on departure, the Christkind rings a bell so that the obnoxious brats who have been going through hell all day in anticipation may finally get their gifts. Yay!
Traditionally, at midnight, the Christmette (Christ mass) is held at church but nowadays, most people, even in the rural areas, don't celebrate that. Unless you have a really good church choir.
Most parts of Germany, without the exception of Bavaria (note: traditions are usually Austria & Bavaria vs the rest of Germany, because really, we are kind of Bavarians. And 2/3 of what is tradition in Austria is also tradition in Hungary, Slovakia, the Czech republic, and even Poland), have the Weihnachtsmann rather than the Christkind, who's a lot more like Santa. Because of TV influences both from Germany and abroad, he's becoming more popular, but also gets a lot of flak because that's watering down our traditions (something Austrians struggle a lot with Germany, also where language is concerned).
December 25 is Christtag (Christ day) and December 26 is Stefanitag (St. Stephen's day, he was the first Christian martyr), both days are traditionally the time to visit (and try not to kill) family members and eat way too much delicious food. Dec 25-26 are public holidays, the 24th as well but because of Christmas, a lot of stores are open until early afternoon (which is frowned upon). Because Dec 31 & Jan 1 are the next holidays, and Jan 6 the next after that, a lot of people try to take a vacation from Dec 23-Jan 7. Schools and universities are closed, and skiing resorts burst at the seams.
What Christmas is not:
No Santa, no reindeers, no North pole, no elves. No fucking Elf on a Shelf! I still don't get that, but I laugh whenever I see the meme with the dog that mauled the elf, with the "snitches gets stitches" tag line. Remember, being put in a sack and beaten if you're a brat?! We don't need no elf! We decorate, but mostly that's mimicking American traditions. The tree goes up on Dec 24, not much before that and usually stays until after New Year's Eve. We do have the Adventkranz (Advent wreath) with four candles that get lit one after the other, week by week, through the four weeks of Advent. This year, the 4th Adventsonntag (Advent Sunday) was Dec 24, tough luck for trying to burn those candles down evenly (which is obviously impossible). We have our Christkindlmärke (Christmas markets) where you can buy delicious food and hot alcoholic beverages, and lots of Christmassy stuff. Most larger streets in the cities, particularly in commercial centers, are lit up with ornaments. But again: we don't decorate!
Children do write letters, but obviously to the Christkind, not Santa. In the city of Steyr in Upper Austria we even have an official Christkindl post office.
A little unrelated, another tradition is that for Dec 4, for St. Barbara's day, you cut twigs from a cherry tree (or other fruit tree) and water them in your living room. If they bloom by Christmas, that means that next year you'll have lots of luck! St. Barbara, the patron saint of miners and the artillery, or "everything that goes boom!". So much sense (obviously, the 20 days are the ideal time for twigs to revive, sprout, and flower, but that's besides the point). That tradition is very dear to my family because, guess what, Adrienne's not the name on my birth certificate. It is a lovely tradition, and very typical of traditions in Austria–you can control or predict the outcome, and praise a random Catholic saint who very, very likely got merged with a pagan / Germanic god or goddess so people could continue to observe their old beliefs and praise Christ at the same time. Christians here are a very, very different game from the US or elsewhere in the world.