November (+NaNoWriMo) 2017 recap
December 7, 2017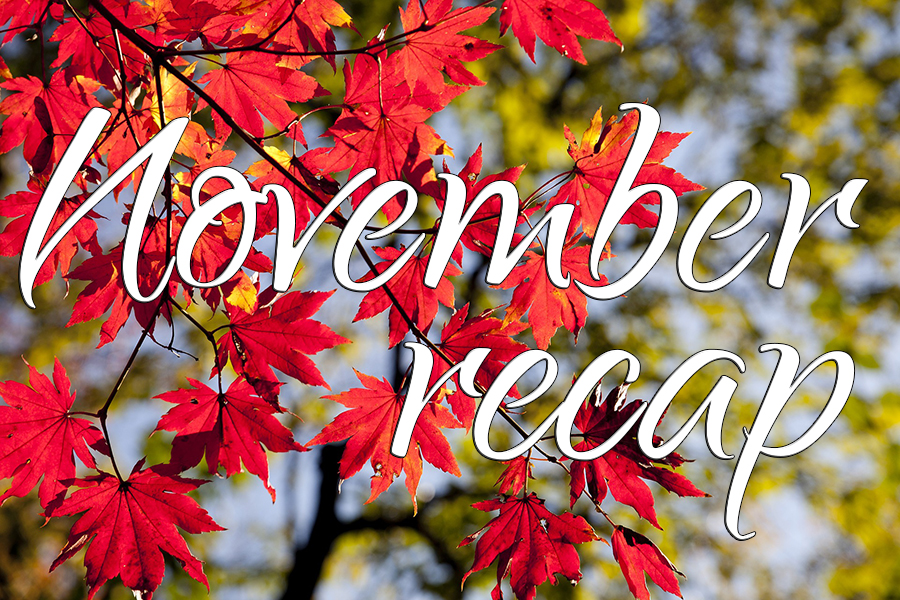 A little late this month but hey, you get an extra week of December for free!
November has been a weird month for me. Productive, but weird. I wrote just over 50k words plus 19k on the blog, coming to a very neat 70k, which makes it in the top 2 productive months of the year. I "won" NaNoWriMo! I accidentally finished a novel as I realized my plot was too long for just one book and I'm now adding all the details in I skipped over (or hadn't seemed necessary it the time). I also went swimming on 18 days out of 30, swimming over 22 hours. I've cleaned up my diet somewhat; sleep has been mostly good except for a few days. I've been socializing more than I expected. Overall, a pretty amazing month!
Doesn't entirely feel like it, which makes me wonder: am I just sabotaging myself, or is it due to the shit ton of exercise that I'm doing that my mood has been mostly stable of late, letting me coast through the days at a max of 10% meh, which is feeling pretty normal and healthy to me. So, yay!
I've split books before but never like this. I've also re-written books, but also never like this. Not too fond of the process as I'm def. a first draft writer (meaning, for me, writing that very first version of the story is where the fun is). Editing is painful; sifting through it all now in detail and adding content is… taxing. But it also gives me a lot of opportunities to improve, that's something I really like, and might get into. Just yesterday I realized I need to write two characters out of the story again. Didn't really need them, and I'm not just dragging them along to kill off at least one of them (I think you'll thank me later. You can take a guess now if you want. It will be pretty obvious once the book is out). It's funny how sometimes, things change. Usually, unimportant characters push themselves to the forefront. This time two decided to take a step back. Means more changes but I think the story works better this way.
Book sales have been surprisingly good in November, for being the 3rd post-release month. Must be doing something right. I'm right now trying to learn more about copywriting so I can write better descriptions for my books, but mostly to run ads. While GF8 is going to the editor and beta readers, I will be starting a new campaign of ads and see if that helps sales. Not sure how much of a factor that is since most of my money comes from KU and I feel like KU readers are less receptive to ads, but let's see! I know, terribly exciting for you, but that's part of my job as well, as CFO and head of the marketing department of my own little business here.
I've also signed up for attending a conference near London in February. All Indie authors, that will be interesting. I knew about it before, then forgot, then was reminded, and when I found a good deal on flights and a hotel close to the venue I jumped the gun last Friday. It's not that I'm averse to staying at a spa / conference hotel but I'm now paying as much for three nights as I would have for a single one, and it's closer to the train station so that I don't need to learn how to use the uber app. Yes, I might be at the forefront of independent publishing but I'm still not trusting these newfangled smartphone thingies! And get off my lawn! Instead I will make a day-long detour with the tube and national rail rather than a 10 minute taxi ride. I think every Brit reading this will now be convinced that I'm insane. But I get to visit London on my travel days while I leave my baggage at the train station, so that's nice, too! I've been to London book fair twice now and will attend in 2018 as well, but this conference is different. It's back-to-back business for Indies stuff with some craft info in the mix, but all centered on how we do our thing. Plus, I maybe get to brag a bit about my numbers. Or not. Many people attending will have been outselling me by a lot for years. Always good to learn from the success stories in your chosen field, I say! I'm both scared and excited about this. Don't really like meeting strangers. Considering there will be 95% introverts attending, I think we will all be fine (after breaking the ice and babbling incoherently for the first 30 mins).
Not much else I can say, you already got waaaay too much behind the scenes with the NaNoWriMo blog posts. And that's okay, but still scary as hell for me. I'm not someone who is, on the long run, comfortable with getting too familiar with people when I can't gauge their reaction. Let's not do that again. I know you prefer book updates, anyway.
As for what to expect on the blog in December:
– audiobooks (finally! Post is all done, just need to proof it one more time)
– burnout (a hotly discussed topic in the community at the moment, and maybe you'd like my take on it, seeing as you had to sit through an extended, 10-month waiting period last year)
– preorders & why I don't do them / what my overall publishing process looks like
… and maybe more, particularly if I happen to come across something I feel like might be fun explaining. Writing non-fiction helps a little to appease the fiction Gods. At least in November it kept me writing. Of course, now I'm re-writing, which is hell, and I will take any excuse not to have to do it at the moment… like now… Shutting up now so I can get through the first chapter of revisions, then hop into the pool, and hopefully not work through the entire long weekend ahead (tomorrow's a publish holiday here, thanks, Roman Catholics!)