Q4 Plans
October 5, 2017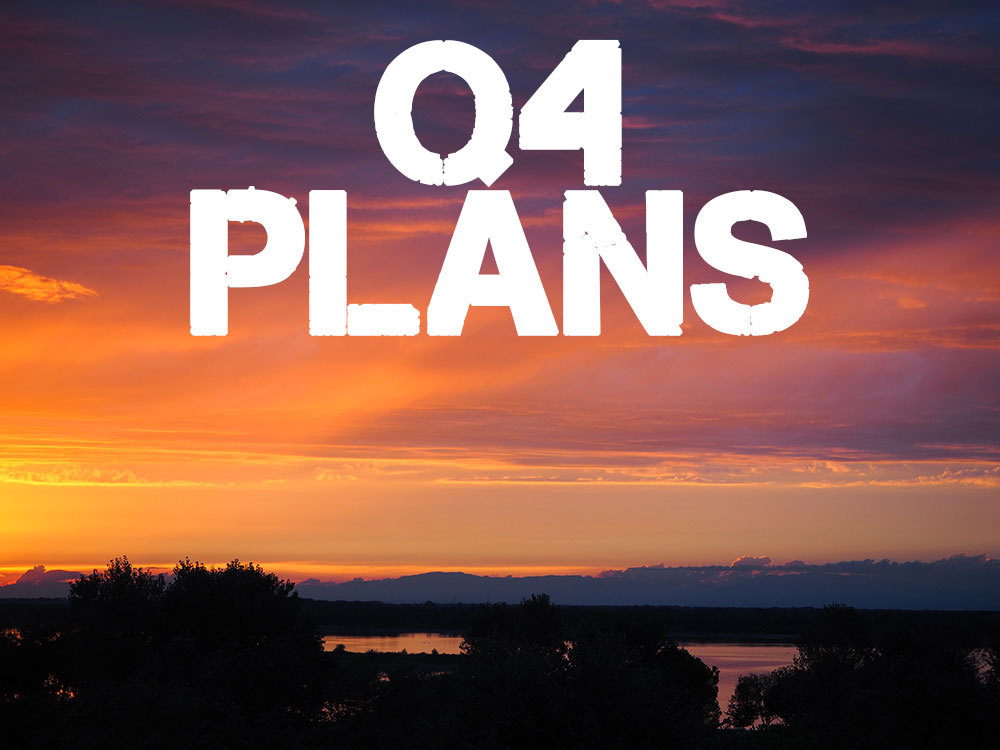 Instead of boring you with a September recap (hint: September was kind of a dud for me) I'll entertain you with what I have planned for the remaining quarter of 2017!
But first, a very, very short recap of what happened in September, because I'm a glutton for punishment. Beware, personal stuff ahead.
Exhaustion hit me like a freight train at the beginning of the month. You'd think that after publishing 13 other novels, I'd expect this to happen, particularly after a very, very productive summer, but noooooo. Not only was I toeing a mini-burnout from several months of constant productivity, but as usual, the release was strong, but numbers only started to really pick up in week 3 post-release. A lot of writers who still have a day job dream of doing it full-time. Let me tell you, if you're all in, waiting until you have the data to start crunching the numbers is excruciating. Or maybe that's just me. Don't worry, most of my fretting was for naught, but it adds a nice layer of stress. Of course then karma had to swoop in and remind me that good things come to writers of gory horror stories, and one of my all-time favorite authors shared a promo I was running, giving it a great kick that still keeps burning. Yes, I once again embarrassed myself fangirling all over Bobby Adair. I swear, if I ever meet him in person, I will apologize. But I have no regrets!
Then there was the vacation in Italy (I posted a pic in the new facebook fan group, and the header image is taken from our room's balcony as well), which was amazing, but since my mind was still on a bender, it took until the last few days for me to really come down and relax. Then, of course, within hours we left the sunny, warm late summer beach of Bibione and drove home to November weather Vienna. Cue in the worst case of SAD I've had in years! I'm a little better now but damnit, I'll need a long, sunny October to get me ready for actual winter!
Oh, and this week I bought a new motorcycle after selling my old one. You only live once, as they say!
Now what's the plan for the next three months:
Finish the 8th Green Fields book (that is still without a title)
Sounds easy (and it looks good and almost complete in my head, just today I worked out a few more pivotal scenes), but I still have 50-70k words to write, which is possible, but means I need to do a lot of writing. Did I mention I bought a new bike?
I will be doing NaNoWriMo in November again. I was planning to write the first novel in a new series, but since I got the go-ahead for my Patreon project from my accountant, I will instead write 50k words of short stories for Patreon instead! Yes, I know it's called National NOVEL Writing Month, but considering I'm a pro, I think I can cut myself some slack. Plus, 50k short stories would make up about half a year for monthly stuff on Patreon, so it would take off a lot of priority tasks for the start of 2018. I could also launch my Patreon in January 2018, so that's another bonus!
Short stories that will be included in this are:
– What the gang was up to while Bree was gone in GF#5, Resurgence, Nate's POV
– How Bree and Nate met (alternating POVs, so we get some backstory from before from both of them. And there will be two versions, a smutty and not quite that explicit one, for everyone to choose their poison)
– A story from Pia's POV that ties into hints that are dropped early in GF#8
– Maybe the backstory of Sadie and Bates, but not sure about that yet. Might get a little raunchy as I would write it from his POV
– Either Burns's or Andrej's POV of the parts early in GF#5 that Bree blacked out on. That's going to be super fun and uplifting! (/sarcasm)
– Something that happened at the bunker during the first winter – either a late loot run to Cody, a typical training day for Bree, or someone being a nuisance in connection to the apple-sauce-pocalypse.
Someone has to proofread and edit all this! And while I have a kickass team of beta readers and the best editor in the world, that someone will also be me! I might have mentioned that before but I hate proofreading with a vengeance! Also, the audio version GF#7, Affliction, should be ready for proofing soon as well! Looking forward to that for real!
Depending on how much October will bleed into November (90% chance), and November into December (depending on how long it takes me to need to write something longer than a couple of pages with a given setting – 50% chance) December might just be the month to finish what needs finishing. I plan on publishing GF#8 in December as well, so that will easily eat up a week, plus cue in another round of exhaustion after that… and Christmas, my least favorite holiday of them all!
Or I get everything wrapped up on Nov 30, and December is all free for the next novel! Might be GF#9, might be the first of a new series (still trying to decide between three possibilities. Maybe four. My mind is a crowded place!)
I have a lot of socializing going on:
– Winter of Zombies blog tour, a 30 day-long zombie extravaganza all over facebook, and blogs!
– November to Dismember at the Reading Horror facebook group – my day is Nov 29
– and some more interviews I've signed up for. I should compile a list one of these days…
– Oh, and there's that matter of that anthology coming out on October 10. Almost forgot! (Just kidding. I'd never forget!)

If you haven't joined my super duper Fan Club on facebook yet, do so now! It's a great place to stay up to date with information, and it won't get swallowed up by endless processions of cute cat pictures! Unless I post a few of my cats. Promise, never more than one or two at a time! Great stuff going on there right now! Including me being a dork, but what else is new?
You can read an exclusive teaser for GF#8 in the group, and more to follow.
On the future of the blog:
Not sure what I will be doing with this. Right now, the fan group is the best place to share information. Of course, I can share the blog posts there, too. I still have some written that need editing before posting. I will get there eventually. I will also be sharing stuff all through November for the events, and I have, tentatively, considered abusing the blog for an accountability thing for NaNoWriMo, kind of a way to give you a real-time behind-the-scenes update how things are going (an almost-guarantee for me to get stuck, but hey, not the craziest idea I've had this week!). We'll see! Not fretting this. Just telling you that if you want to stay up to date, the fan group is the place to go, also for blog updates.