July 2017 recap
August 4, 2017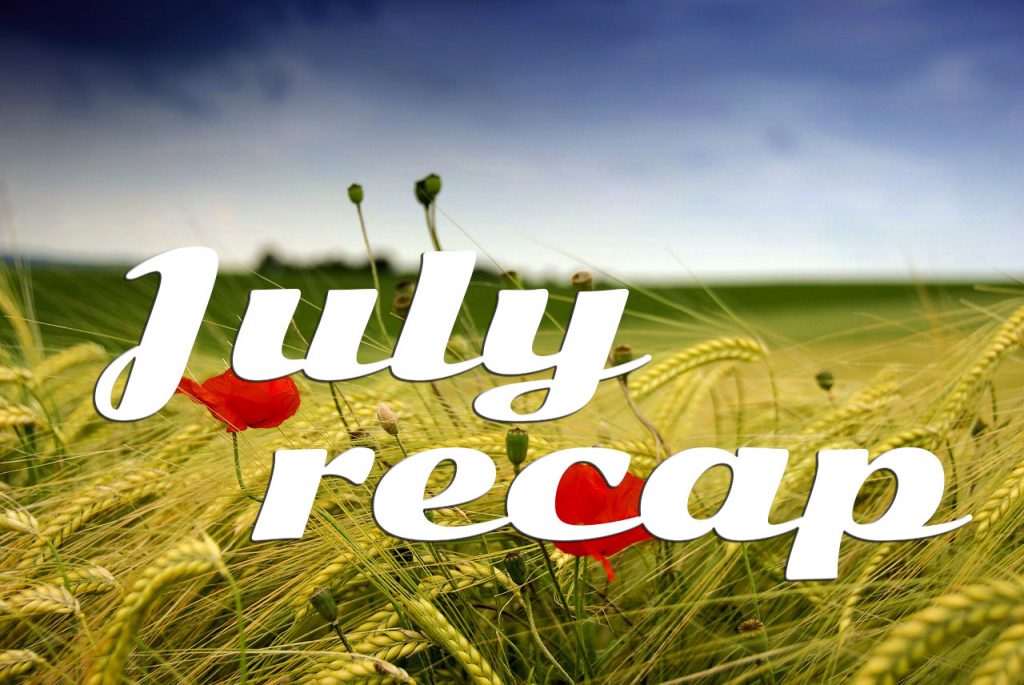 To describe my July with a single word is easy: mental. As in me, going, completely.
The tl:dr version: GF#7 is written, GF#8 is started, and I'm about dead.
Writing:
Affliction, the 7th book in the Green Fields series, is done! At least the writing part and first proofreading turns. Now it's with my editor and beta readers.
And my, this was a tour de force this time! I've written the last 45,000 words of it within the span of ten days. That's 37.5 percent of the book, for anyone who wants to keep track. I barely slept, I was running on caffeine and fast food (exactly what I vowed not to do again), and it pretty much drove me insane. I empathize a lot with my characters—remember that when you read the final version of the book!
Proofreading took me another five days (which is short. I sometimes need up to two weeks for that chore, and hate every single second of it), and I started on book #8 (which so far doesn't have a title, not even a working one, but I generally refer to the books by series number, so who cares until I need to get the cover done!) the next day. Since then my sleep schedule has finally caught up with me over the last weekend and my brain is kind of working normally once more.
It wasn't so much the number of pages written in such a short time that killed me, but the combination of really getting sucked into the story, and lack of sleep due to the summer heat. My writing record for most words written within a day (close to 20 hours) is around 20k words, and my all-time high to finish a book within a five-day span to meet a deadline is 60k, so the 45k weren't that out of the ordinary for me. Only one day clocked in over 10k, I've had worse in the past. There was one day I didn't write anything because I was fine-tuning, and several that had only a few thousand words at the end, so on paper it looks like a fast but within the boundaries of normal finishing stretch for a book.
But this one really pulled a number on me.
Beta feedback so far has been amazing, so while I'm not-so-secretly shitting my pants about the release, at least some of my die-hard fans I haven't disappointed!
Total word count for the month was 59,258 fiction, 9,933 non-fiction, making a total of 69k words written in July. Not shabby at all, I'd say! That makes July the most productive month of the year, and also since April 2016 or so.
Other work-related stuff:
Still need to finish that short story for the anthology, but GF#7 was more important, and I needed to start on GF#8 right away to get my mind out of its funk. The book starts right where #7 stops; in fact, we're still in the same day in-story where I'm at right now, but I plan on taking a break from that until I have the short story done.
Because there were questions about the anthology and my short story contribution: All contributing writers are offering short stories set in their own worlds, so you not only get to read an outtake from the Green Fields universe, but 20 other amazing snapshots from books or series that should be right down your alley if you love the genre. You've probably read several of them already—and now you get a good preview of what else you can chomp through until my next book is out.
I've started (and in a few cases, even finished, but not yet edited) a few more blog posts, but writing novels always is priority number one for me, so you'll get them in the next few weeks.
Personal Life:
Not much happening of that because, see above. That pretty much sums it up. I like summer but not so much the heat, and as we're right now waltzing through the third heatwave that comes complete with heat records, I'm not a happy camper. Not much exercising done this month (only nine times swimming 60-120 mins) because I was doing most of the writing not from my office where the gym is right across the parking lot, but trolling my favorite coffee shop haunts. 1/3 of the last stretch of the book is brought to you by Starbucks Cold Brew Vanilla Sweet Cream! I kid you not. That, and the bad eating habits, and the lack of sleep pretty much turned me into a sweating vegetable. I'm already recovering, but summer is generally the "worst" part of the year for me. Can it be September yet?
Reading:
Nada as far as fiction recommendations are concerned, except for my own book. I read one romance book that I've been waiting for since April, and some writing craft non-fiction, but overall not much. My kindle is already exploding with new books to read, and I'm renewing my KU subscription in September, so one of these days that will change—but not in July.
TV / movies:
WINTER IS HERE! 'Nuff said.
7th season of Game of Thrones is amazing so far. I'm still a little cross with them for killing my favorite character, Ramsey Bolton. Don't tell me you're surprised that I'm loving the villains way more than the heroes. And GoT has so, so many of them! And when they do go out, they go out in the most satisfying way. Battle of the Bastards must have been my favorite episode right up to the season 6 finale, and they kept that momentum going right out of the gate for this season.
Also really enjoying Wynonna Earp right now. Between seasons I've picked up some of the comics the show is based on, and they are great as well!
Technically August already but before I sat down to write this blog post: Alien Covenant. We didn't catch it in theaters because of some reason or other I forgot (we're really lazy about that this year) but now that it's out on BluRay we finally saw the movie—and I really liked it! Of course it's again full of smart people doing really stupid things that end up dooming them and could have so easily been avoided, but I liked it more than Prometheus, and I liked that better than the 3rd and 4th installment of the franchise—by a lot. Nothing beats #1 and #2, but between the beautiful scenic landscapes and the pacing of the horror parts it was a surprisingly good experience. Might even write a review for that, if I ever find the time.
Music:
The end of GF#7 and beginning of GF#8 is brought to you by my repeat song of the month: Thunder by Imagine Dragons. I have no idea why my brain chose that one, but I can still listen to it now that the book is complete, so that's a plus!
Things I've learned this month:
Nothing new, but getting feedback from beta readers is invaluable. I really appreciate the typo hunting effort (lets me sleep easier at night), but I love it when I get a few lines of comments back as well, sometimes even what I think some fear is "critique" (as in something that might piss me off because it's not 100% positive. Please never be afraid of that!). Nothing more rewarding than someone picking up on a point that's currently a flagging, loose end and wondering about what that will mean for the story going forward—and me already writing the resolution / next step into the story, so it's not something that completely blind-sides me. I had a lot of fun with one of the less positive reviews I got for Unity when the high points that supposedly underlined what a shitty writer I am were pretty much the roadmap on which I'd already hung the plot for Affliction. That one might have been a good beta reader if he hadn't been so damn condescending when he approached me, on my facebook page, and made it pretty much impossible for me to work with him. Loss for him, not me, 100% sure of that.
What's up for August:
Three things mainly:
– Get GF#7 ready and out into the world! That's not entirely up to me as post-production always involves several people, including my editor and cover designer, but it's looking good for a late August / early September release. Don't want to miss it? Sign up for my newsletter and you'll get an email on release day! I will write a blog post about that soon, too, but the reason why I generally don't have release dates for any of my books for any format is because I try to get them to you as soon as they are ready. I don't queue them up, I don't hold the ebook back so the audio is done at the same time, and I upload to amazon as soon as I have the final version that looks good on my kindle and iPad in a last quality control check. That's usually a few days after I get the second round back from my editor and I've spent the last days reading—and listening, with text-to-speech, to the book once more. I'm trying for a Thu/Fri release this time to see if there's any difference in the numbers. We gotta break into amazon's top 500 kindle ebooks with Affliction! Only 13 ranks to go from Unity's phenomenal release.
– More work on the anthology, more info coming soon! I'm also going to look for advance readers who leave their reviews on release day so we can push the anthology as much as possible, I'll post a call for that on my facebook page and personal account soon.
– Finish writing on GF#8. Yes, you've heard right, 45k killed me, so why not do a good 100k this month? I will likely not succeed. Post-production of GF#7 will take up too much time, but that's okay. If I only write 50k, or 75k, that's more than okay. I have a vacation coming up in September, and the plan is to have the first draft until then (and I won't do a word of proofreading in Italy, I swear—to myself. No more working on vacations, I need the time off). Even if I blow that deadline and it ends up being done by end of September, I'm still hitting my overall schedule deadlines, just trying to work ahead now while my muse is still rocking in the corner and hasn't decided to, oh, I don't know, disappear for half a fucking year again. September and October are also the two months where I spend the most time on my bike, enjoying the warm, long fall we get here, so that takes away time from actual writing as well (and I won't be sorry for that for a single second). I'm still trying to teach myself dictation so that would help cushion the possible blow to my productivity somewhat—and what's better than the idea of a long ride through the beautiful countryside, interspersed with breaks of telling my voice recorder terribly gory things?
-Depending on how well writing GF#8 works, and how much I like doing the short story for the anthology, I might start writing more short stories for my Patreon project. In theory, I have a good ten of them plotted already and could write each in about a day or two, but there's a reason why the 3/4 of a million words you've read that I've penned were novels, no novellas or short stories (although technically, the first chapters of GF#1 and GF#3 are short stories).
Upcoming blog posts:
– Audiobooks
– Where I write
– Pre NaNoWriMo 2017 ramblings
Realistically, I will fail some of my August goals but that's mostly because I'm calculating them at 150% productivity. So don't be disappointed if I fail, I'm kind of meant to—or I'll end up really deserving that vacation in September!
Happy August everyone!